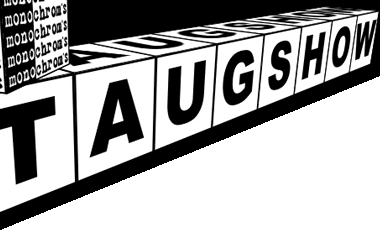 ++TAUGSHOW #10++ Live Taping
Sunday Feb 11, 2007 7:30pm
Exploratorium, Marina Blvd & Lyon Sts
$10
The flat hierarchies of talk shows are about as subversive as NYC Democrats smoking dope. But count us out! We won't produce a talk show. Nope. We produce a TAUGSHOW! Which means: we dig it. Our guests are geeks, heretics, and other coevals. A joyful bucket full of good clean fanaticism, crisis, language, culture, self-content, identity, utopia, mania and despair, condensed into the well known cultural technique of a prime time TV show.
[taugen; Viennese slang: to dig/love/adore something]
Host: Johannes Grenzfurthner
Content Manager: Roland Gratzer
/// J.D. LENZEN ON LONG-CHAINED MOLECULES AND KNOT EFFICIENCY
J.D. Lenzen is a classic San Francisco bohemian. By day he works as an environmental chemist, and by night he teaches rope bondage instruction workshops as a member of Two Knotty Boys. Co-author of the rope bondage instruction guide 'Two Knotty Boys Showing You the Ropes', J.D. also writes fictionalized novels—his first, 'Soft Candy', is scheduled for release this spring. A part time actor, J.D. also paints lowbrow pop surrealist paintings and is an accomplished singer/songwriter.
http://www.roperigger.com
http://www.twoknottyboys.com
http://www.namahaman.com/
http://www.chapterprojects.com/
http://pics.livejournal.com/jayodee/gallery/000010cg

/// JENNIFER GRANICK ON LAW AND OTHER HACKS
Jennifer Granick is Executive Director of Stanford Law School's Center for Internet and Society, Director of the Cyberlaw Clinic. She joined Stanford Law School in January 2001, as Lecturer in Law and Executive Director of the Center for Internet and Society (CIS). She teaches, speaks and writes on the full spectrum of Internet law issues including computer crime and security, national security, constitutional rights, and electronic surveillance, areas in which her expertise is recognized nationally.
Jennifer Granick came to Stanford after almost a decade practicing criminal defense law in California. Her experience includes stints at the Office of the State Public Defender and at a number of criminal defense boutiques, before founding the Law Offices of Jennifer S. Granick, where she focused on hacker defense and other computer law representations at the trial and appellate level in state and federal court. At Stanford, she currently teaches the Cyberlaw Clinic, one of the nation's few law and technology litigation clinics.
Jennifer Granick continues to consult on computer crime cases and serves on the Board of Directors of the Honeynet Project, which collects data on computer intrusions for the purposes of developing defensive tools and practices and the Hacker Foundation, a research and service organization promoting the creative use of technological resources. She was selected by Information Security magazine in 2003 as one of 20 "Women of Vision" in the computer security field.
/// Regulars:
EVELYN FURLINGER, MA.
Evelyn presents "Wicked Wordz" our regular column about lingustics.
/// Visuals:
VJ MATTBOT
/// Showband:
MONOCHROM ALLSTAR BAND
A couple of songs. And an eternity of shame.
/// MONOCHROM
Taugshow is a project by monochrom. But what is monochrom?
monochrom is a worldwide operating collective dealing with technology, art, context hacking, and philosophy which was founded in 1993. They specialize in an unpeculiar mixture of proto-aesthetic fringe work, pop attitude, subcultural science, and political activism. Their mission is conducted everywhere, but first and foremost "in culture-archaeological digs into the seats (and pockets) of ideology and entertainment."
Among their projects, monochrom has released a leftist retro-gaming project, established a one baud semaphore line through the streets of San Francisco, started an illegal space race through Los Angeles, buried people alive in Vancouver, and cracked the hierarchies of the art system with the Thomann Project. In Austria they ate blood sausages made from their own blood in order to criticize the grotesque neoliberal formation of the world economy. Sometimes they compose melancholic pop songs about dying media and they have hosted the first annual festival concerned with cocktail robotics. At the moment they're planning a conference about pornography as one of the driving forces of technological innovation. They also do international soul trade, propaganda camps, epic puppet theater, aesthetic pregnancy counseling, food catering, and - sorry to mention - modern dance.